Education is not mere information to be dumped, but knowledge to be experienced & shared .
At QGMS, we emphasize on this through our 7 sutras and 1 mantra that leads towards responsible, contributing & successful citizenship.
- Prof. Dr. Madhurani Gowda
Corporate Social Responsibility
"At Queens Global management Solutions - it is defined as citizen's social responsibility rather than corporate social responsibility "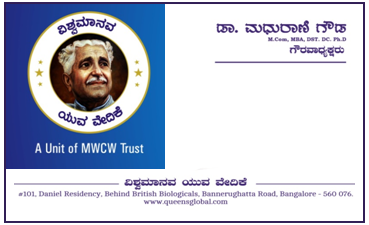 Prof. Dr. Madhurani Gowda, founder of  Queen's Global Management Solutions strongly believes that "It is the duty of each and every citizen to pay back – something in return to the nation.  In this belief, being the Hon'ble President of "Vishwamanva Yuva Vedike " – on behalf of the vedike conducts training programs for unprivileged and underprivileged students that help them to  mould their future.  Apart from this the vedike also conducts awareness programs on HIV/AIDS, Environment protection, Cleanliness and Civic Social Responsibility. 
India strongly believes that - Youth are the future of our nation.  In this reckon we work with undergraduates, graduates, postgraduates and other peer group youth by educating and mentoring them on different skill-building sessions that are based on some of the best practices from around the world, also they are exposed to some of the most pressing social problems of our country that enlightens them about the need for social consciousness.  The training programs are tailored to build among the trainees self confidence and the ability to solve one's own problem and also the to build conscious of contributing to the nation's inclusive progress along with self development.  This moulds them into tomorrow's leaders and convert them into Climate Messengers who fight climate change through citizen level initiatives which in turn builds a more healthy, influential, equal and socially conscious society. 
The vedike provides awareness on cleanliness and environment by seeding in the mind of individuals the sense of responsibility towards conserving nature and maintaining cleanliness in the local community through citizen level initiatives and also help to bring about policy level changes in the government, to encourage corrective and preventive action for a greener and cleaner environment.  The residents are encouraged to plant saplings of their choice in their localities and take continuous care of the trees planted and maintain cleanliness in and around themselves that emphasizes on our collective commitment to provide the current and future generations with a clean, green and safe environment.
The vedike provides awareness on HIV / AIDS, which is considered to be one of the non curable disease in the turbulent presence.  This terrific giant is causing harm to youth who are considered to be the future of India.  In the light of the same, the vedike is continuously striving to prevent those who are falling prey to this giant by creating preventive measures and the like.